| | |
| --- | --- |
| Posted by Landon Ewaniuk on July 8, 2011 at 5:25 PM | |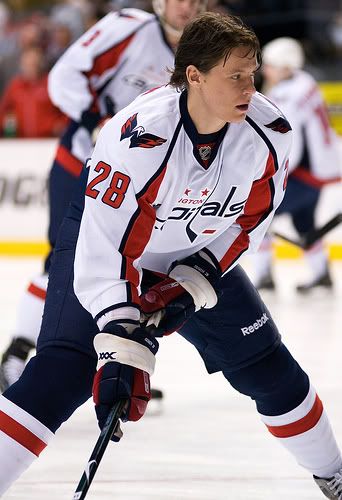 Please don't be shocked if you hear that the Washington Capitals have moved Alexander Semin. There are tons of rumors floating around suggesting that Semin is on the move from the Washington Capitals.
Steve MacFarlane of the Calgary Sun suggests that the Calgary Flames are the front runners in acquiring the services of Alexander Semin from the United States capital:
"Flames general manager Jay Feaster is on the hunt for another talented forward and reportedly wants to add one before the summer is up. A deal with the Washington Capitals for Semin would certainly check off that box."
Ed Tait of the Winnipeg Free Press has said there's a whole host of other horses in the race for a sniper like Semin:
"The Washington Capitals are said to be shopping Alex Semin with Montreal, Nashville, Toronto, Philadelphia, Pittsburgh and San Jose, all said to be interested in the right-winger, who has 166 goals in the last five years. Jets defenceman Zach Bogosian has also had his name linked to Semin in various trade rumours."
Since the salary-cap has gone up, I've noticed almost every team has gone with the approach, 'we must win now!'  In the not so distant past, a $6 million cap-hit seemed unmovable.  Today, teams look to be targeting a player with no concern for the price-tag.  There's no doubt Alexander Semin is a dynamic player with 354 points in 392 games, and with the way NHL general managers are spending their bankrolls, Alexander Semin will be on the move as long as the Washington Capitals are willing.
My only concern on the part of Semin is that he's another high level skill guy that falls into the category of "yet to play a full NHL season."  Buyer beware...